In the last few decades, incubators have sprung up in the tech industry.  By now, there are about 6,000 companies which were hosted by incubators during startup.  The number of entrepreneurs who are convinced once they hear about successful graduates of incubators is growing fast.
As I have mentioned in my blog last December, incubators are all the range these days and startups in general are even bigger. It still seems that many people are into creating their own business and be called the founder.  Yes, it is beginning to be a well-known truth nowadays.  However, a new businessman should assess his capabilities and see how his plans for his new company can be put into action.  Without any or little resources, a startup business might as well seek the help of an incubator.
Let me tell you the very basic reason why startups should seek support from an incubator like Ab Dev Labs.
I do not mean to sound very noble or anything but I am pretty sure that this is not about the financial capacity of an incubator to support a startup.  It may be one of the reasons but not as tantamount to what we believe in.
Firstly, AB Dev Labs is a cooperative incubator for startups.
Startups can join the cooperative by contributing cash, equity and/or time on our projects.  In return for their contributions, AB Dev Labs supports the startups with its onshore and offshore teams of software developers, digital designers, project managers, growth hackers, brand marketers, and support service providers (accounting, legal, etc.)
Now let me take you back to the essence of this blog post.  What is the most important value we can offer?
Expert mentoring
In my view, it is the best value which new entrepreneurs can learn from.  Successful incubators have potential manpower.  They are equipped with strong leadership and staff with top credentials.  It is a common mistake to rely on an incubator which only offers space and facilities.  For me, every new businessman should skip those kinds of incubators.
We are a cooperative incubator in a different sense as well.  We have cross-functioning teams in different places of the globe, resulting in specialized and focused tasks, 24-hour work cycles, and documented best practices applied to all projects.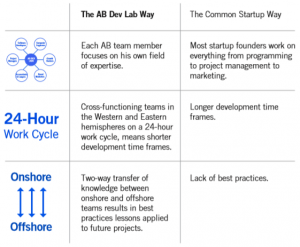 We are a collaboration of the best minds and resources.  To better understand the attributes of a startup incubator like ours, visit our project sites.